What is Macadam Pavement?
Macadam is a type of pavement invented by John Macadam in Scotland in the 18th century. The cross section of the Macadam Road consists of compressed granite or greenstone trackbeds crushed to withstand loads and is covered with a light-colored stone surface to absorb wear and drain water into drains. I did. In modern crushed stone structures, crushed stone or gravel is applied to the compressed base layer and glued with asphalt cement or hot tar. Then a third layer is added and rolled to fill the gap. Cement sand slurry may be used as a binder.
The original system consisted of three layers of stone. The bottom two courses consisted of manually quarried stones placed at a depth of 20.3 cm (8 inches) from the stratum level called subsoil. The top layer consisted of much smaller stones of 5 cm or less. After that, the entire road was compressed and crushed by a huge roller. Also, the crushed stone road is slightly convex so that it can be drained to the sewers on both sides instead of collecting on the road. Pavement technology was popular around the world, especially in the rapidly expanding northeastern United States.
The first American gravel road was a 10-mile (16 km) dirt road connecting the Maryland cities of Boonsboro and Hagerstown. The Boonsboro Turnpike was completed in 1823 under the specific direction of MacAdam. In 1830, construction of a 73-mile (117.5 km) national highway was completed. This national highway is one of the few roads in the United States that still contains a section of gravel.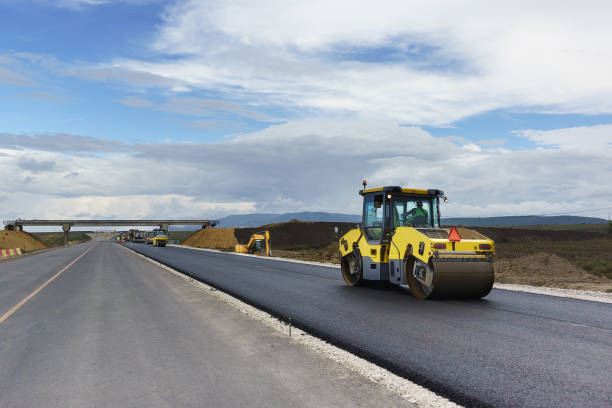 Is Macadam the same as asphalt?
Asphalt is the latest version of Macadam, although these two road construction methods are slightly different. Both of them are a combination of stones and binding materials used to create paved paths for cars. Regardless of which method the crew used, both had a significant impact on transportation and trade during development.
What kind of Macadam Road is there?
Water Bound Macadam 
Various modified crushed stone roads have been developed over time. The use of Thai materials on gravel roads is becoming more and more popular due to the increased durability and longevity of the roads. Gravel roads can be classified into the following four types.
WBM road means macadam road. The WBM road wear course consists of clean, ground aggregate that is mechanically bonded by the rolling process. The material is combined with the filling material (also called screening) with water and placed on the prepared base layer.
The heavily worn gravel road is composed of cleanly crushed aggregate, mechanically connected by rolling, combined with a mixture of filler (sand or clay) and water, and applied to the prepared base course. increase.
Waterbound Macadam Road is abbreviated as WBM Road.
Advantage
Made with local materials and effort.
It's economical to build.
No skilled workers are needed.
Disadvantages
They are transparent.
Short-lived.
Dust generation during operation.
Traffic bound Macadam
This crushed stone usually uses crushed stone or gravel as a wearing course. This type provides several layers of stone and gravel. It is used in both rural and urban areas. The compressed thickness of each layer varies from 2.5 to 5.0 cm.
Bitumen crushed stone
In bitumen putty, bitumen binds stone shavings and is used as a binder to bind the base course to the base course. Also known as Tarbound Macadam. Dust is a serious problem on gravel roads. Therefore, bitumen crushed stone was introduced. Flexible pavement is an improved version of bituminous crushed stone. A pavement made by laying two or more layers of crushed stone on a suitable base and pouring a bituminous binder.
Cement crushed stone
Cement crushed stone is very similar to bitumen crushed stone. Cement is used as a binder instead of bitumen. Rigid pavement is an improved version of cement crushed stone.
What is Macadam Tarmac
Tarmacadam is a pavement material made from a combination of crushed stone, tar and sand, patented in 1902 by Wales inventor Edgar Purnell Hooley. Invented by Scottish engineer John Loudon McAdam in the early 1800s, this product is a more permanent, dust-free improvement with a smooth, compact gravel surface.
Macadam, shape of pavement invented through John McAdam of Scotland with inside the 18th century. McAdam's avenue move segment become composed of a compacted subgrade of overwhelmed granite or greenstone designed to help the load, blanketed through a floor of mild stone to take in put on and tear and shed water to the drainage ditches. In current macadam creation overwhelmed stone or gravel is located at the compacted base route and sure collectively with asphalt cement or warm tar. A 1/3 layer to fill the interstices is then brought and rolled. Cement-sand slurry is every so often used because the binder.